Things To Do
Visitor Attractions Within Close Proximity of Abbey House B&B
Mount Juliet – Golf Course & Estate Weddings
Designed by Jack Nicklaus, Mount Juliet Estate golf course first opened in 1991 with a friendly match between Jack Nicklaus and Christy O'Connor Snr. Since then, the course has established itself as a premier venue for all levels of golfer. This was highlighted when Mount Juliet played host to golfing legends Tiger Woods, Ernie Els, Sergio Garcia and Pádraig Harrington for the WGC American Express Golf Championship in September 2002 – and again in 2004.
Mount Juliet is one of Europe's oldest surviving walled estates, with 500 acres of parkland, meadow and forest, giving you the most romantic and idyllic location for your wedding or civil ceremony. This luxury wedding venue is 20 minutes from Kilkenny City and just over an hour from Dublin, and 4 km from Abbey House B&B.
Jerpoint Abbey
An outstanding Cistercian abbey founded in the second half of the 12th century. The church with its Romanesque details dates from this period. In the transept chapels the visitor can see 13th to 16th century tomb sculpture. The tower and cloister date from the 15th century. The chief delight of the Abbey is the sculptured cloister arcade with unique carvings. The Visitor Centre houses an interesting exhibition. Access for visitors with disabilities. Guided tours available.
Kells Priory
Kells Priory is one of the largest and most impressive Medieval monuments in Ireland and one of the largest and best preserved walled monastic sites in Europe. An Augustinian Priory founded in 1193. It is situated alongside King's River beside the village of Kells, about 15km south of the medieval city of Kilkenny. The priory is a National Monument and is in the guardianship of the Office of Public Works. One of its most striking features is a collection of medieval tower houses spaced at intervals along and within walls which enclose a site of just over 3 acres. These give the priory the appearance more of a fortress than of a place of worship and from them comes its local name of 'Seven Castles'. Located 2km from Kells Priory is a Round Tower Ancient Church and a Celtic high cross said to mark the grave of a 9th Century High King Niall Caille.
Gowran Park
In 2001, Gowran Park, in County Kilkenny developed this unique 18-hole golf course to complement its renowned race meetings which happen throughout the year . The course meanders in and around 130 acres with 5 holes within the racecourse boundary and the remainder in the mature woodland and lake settings of the Annaly Estate.
Goresbridge Horse Sales
Celebrating its half century in 2018, the family run Goresbridge Horse Sales in Co Kilkenny, is Ireland's biggest and most successful sport and leisure horse auction. It is ideally situated in the heart of Ireland's horse breeding country where it stages seven performance sales throughout the year.
Among these is the flagship eight-day fixture in early September, which offers over a thousand horses from the age of three and is probably the largest of its genre in Europe.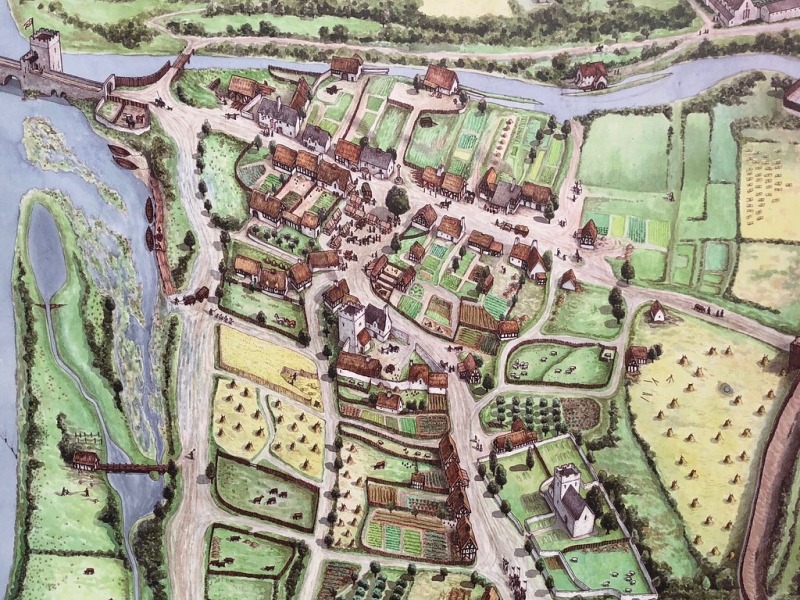 Jerpoint Park
Enjoy a guided tour of the footprints of a deserted 12th Century Medieval town dating back to 1200AD called Newtown Jerpoint. Take a step back in time and explore the standing remains of St. Nicholas's Church which dates from the 13th-15th century, a secular stone-built tower of medieval date and the stunning Medieval Tomb of Saint Nicholas. Tradition in these parts tell that the earthly remains of St. Nicholas were secretly removed from Bari by returning crusader knights, who brought them back to Newtown Jerpoint for safe keeping. They buried those remains with all due reverence in the church that to this day bears the Saint's name. The grave of St. Nicholas is marked by beautifully carved grave slab just outside the church, the tall figure of the Saint dominates the carving, and flanking him on both sides are the heads of the two crusader knights who brought his remains here.
Jerpoint Glass
Watching glass blown by hand is a most exciting spectacle! From the viewing area at the glass studio, you will see the skilled glassblowers perform their magic as they turn flowing red-hot molten glass into the beautiful Jerpoint shapes, right before your eyes. In the adjacent stone building you will find our shop and gallery where the full Jerpoint collection is available including one-off glass blown pieces and seconds available at reduced prices. In the gallery you will find glass, craft and art exhibitions throughout the year and our annual Kilkenny Arts Festival exhibition should not to be missed! Nestled in the beautiful Kilkenny countryside, the creative heart of Ireland, Jerpoint Glass Studio is an ideal destination for an enjoyable afternoon. With nearby walking trails, artisan cafes and restaurants there's so much to do for those interested in glass, craft and beautiful scenery!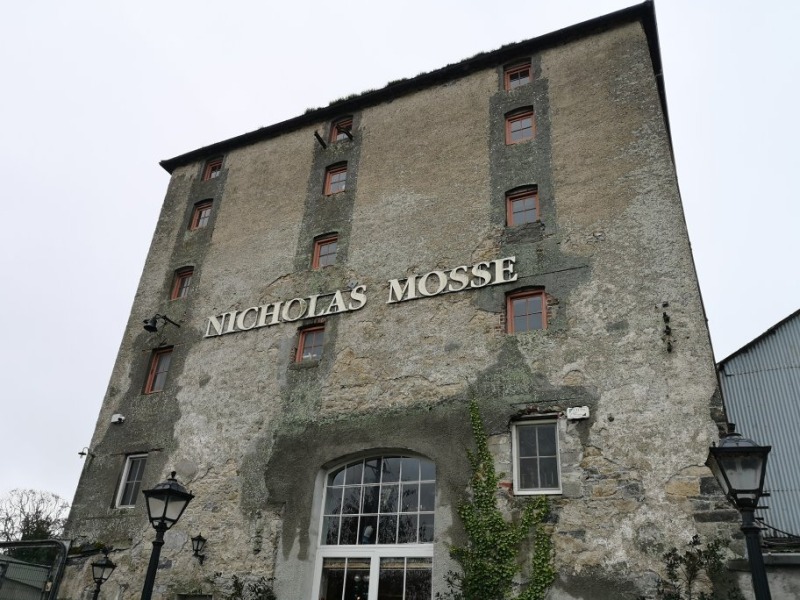 Nicholas Mosse Pottery
Nicholas Mosse is located in a beautiful old mill located on the River Nore in the stunning countryside of Bennettsbridge, Co. Kilkenny. Central to this experience, is our viewing windows. In our shop, visitors can watch our potters and decorators at work through glass windows; see our potters and decorators throw the shapes, fire up the kiln, glaze, paint and sponge-decorate each individual piece of Nicholas Mosse pottery by hand. A visit to the Nicholas Mosse pottery in Bennettsbridge is more than just a visit – it's an experience – a unique one – a little piece of Ireland gone by whose tradition carries on at Nicholas Mosse.
Famine Garden
Gáirdín an Ghorta is a National Garden of Remembrance located in Newmarket, County Kilkenny. The path through the garden is a metaphor for Irish history. The journey along the path is synonymous with the journey of the Irish people from pre-famine era to the future. An attractive garden and a place to stop and reflect – a gem not to be missed.
Kilfane Glen and Waterfall
Kilfane Glen and Waterfall is a pristine example of a romantic era garden dating from the 1790s. Untouched for 200 years, it is a picturesque paradise with a waterfall tumbling its way to a rushing stream and woodland paths leading to a cottage. Tiny bridges sit among ancient trees, wild fox-gloves, ferns and other historically correct 18th century planting.
Woodstock Gardens
Woodstock Gardens are located in the south east of Kilkenny just outside the picturesque village of Inistioge. The gardens, overlooking the River Nore Valley, offer the visitor a wide variety of attractions and are a most relaxing and beautiful environment in which to spend a day. The gardens are currently undergoing restoration by Kilkenny County Council and further features and planting are being added all the time.The main development of Woodstock Gardens occurred in the Victorian Period with the works being overseen by Lady Louisa Tighe nee Lennox and head gardeners, Pierce Butler and later Charles McDonald. The gardens are being restored to the period 1840 -1890 with every effort being made to use plants and materials typical of the era.
The gardens are home to a mix of formal and informal gardens with an arboretum, walled garden, terraced garden, yew walk and rose garden providing the main interest. Also of significance are two stunning avenues, the Monkey Puzzle Avenue and Noble Fir Avenue. Also of interest is a rustic summer house, constructed from materials from the gardens and a fountain to replace the original which was sold from the gardens c.1930. The arboretum is home to many fine specimen trees from Asia and South America in particular. A number of these trees are recognised as champion trees due to their size.  Nearby to the Arboretum is the Walled Garden laid out with fruit trees, a vegetable garden and a beautiful herbaceous border. Just outside the Walled garden is our stunning cast iron conservatory which houses the tea shop.